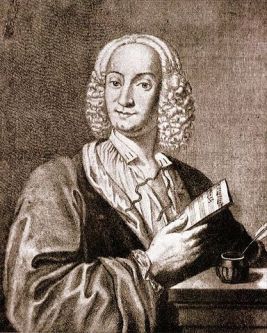 " Antonio Vivaldi" by Francois Morellon la Cave - http://portrait.kaar.at/Musikgeschichte%2018.Jhd/image13.html. Licensed under Public domain via Wikimedia Commons.

In 1739, Antonio Vivaldi (1678-1741) had taught music at the girls' orphanage of the Pietà for forty years. By the time he became Paola's violin teacher, he and his music were renowned throughout Europe. Many of his best loved compositions, such as 'The Four Seasons', and the famous 'Gloria', were written for his talented orphan pupils to perform. Musically gifted young women were also said to have come from all over Europe to study with him. At the time of my story he was sixty years of age, and unfortunately, in Venice itself, his star was fading. As he said himself, 'Venice is tired of me.' The Venetians, always eager for novelty, were becoming bored by his compositions, which had, indisputably, become rather repetitive. Teaching at the orphanage was just a 'backstop', a way of recouping some of the money he had lost mounting disastrously expensive opera seasons in Venice and Mantua. Opera had been for some years his real love. He realised that he needed to find a future elsewhere, and was known to be angling for a position at the court of the Holy Roman Emperor, in Vienna. As Paola suspects, if he receives any encouragement, he will go, as indeed he did, in 1741. Alas for Vivaldi, this new start in a city that admired his music and hadn't had the chance to grow bored by it, ended in tragedy. Soon after he arrived he fell ill and died. There is a plaque on the wall of Sacher's Hotel in the centre of Vienna, right next to the Opera house, recording the place where he died. While you enjoy a slice of Sacher Torte with your coffee at Sacher's, remember Don Antonio Vivaldi, who is buried here in Vienna, in a pauper's grave.

Vivaldi wrote huge numbers of works, both orchestral and choral, including many oratorios on religious themes, almost all of which would have been performed by the Coro (the girls' choir and orchestra of the Pietà) Opera, however, was another matter. He wrote nearly 50 operas for performances on the public stage, and these, usually based on stories from classical mythology, would not have been considered suitable for these young women to see, let alone perform. However, there is one work, Il Mopso, listed amongst his compositions, though completely lost today, which is described as an 'opera' rather than an oratorio (an oratorio being a sung but not acted work, telling a religious story). Il Mopso is believed to have been written for, and performed by, the girls on the occasion of a visit of Prince Ferdinand of Bavaria, a who was a Field Marshall in the Imperial Army, to Venice, possibly in 1738 or 9 (dates are difficult, partly because the Venetian year did not follow the same calendar as the rest of Europe.) Although the music and the libretto are lost, the main outline of the story is known. Briefly, it concerns a fishing community, a wise seer, a storm at sea, and prayers to the Virgin Mary by the womenfolk which result in the safe return of the fishermen and their boats. If the girls really were permitted to 'act' as well as sing this work, with the addition of costumes and scenery, as I describe in the story, it is impossible to know. It would have been a daring innovation if so, but one of the joys of writing fiction is imagining what might have happened.

My first novel, Death of a Daughter of Venice is set amongst the girls in the Pieta. Vivaldi teaches, composes and conducts for them. The mischief and growing pains of the youngsters give life to 18th Century Venice.