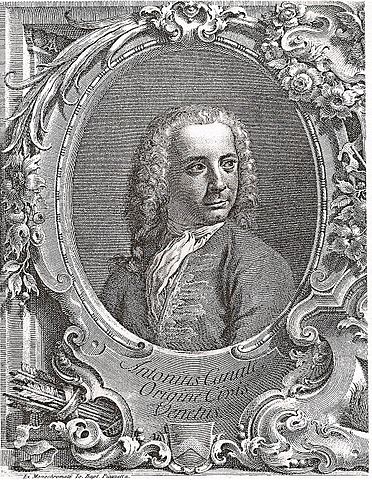 "
Giovanni Antonio Canal
" by
Giovanni Battista Piazzetta
-
Nndb.com
. Licensed under Public domain via
Wikimedia Commons
.
Giovanni Canaletto (1697-1768) was the son of a Venetian theatrical scene painter, and started his career as a scene painter himself. He became extremely popular and successful by painting pictures of Venice, cityscapes or 'veduti' as they were called, for rich visitors, including many from Britain. These were young men who visited Venice in the C18th as part of the so called 'Grand Tour' of Italy which was considered to be an important part of the education of a nobleman. Many of them (accompanied by tutors and servants) spent weeks or months in Venice, enjoying its unusual setting and lax moral climate. After admiring (or being bored by) the classical ruins of Naples and Rome, Venice, the beautiful city on the water, was a novel experience, and one that was probably very much to their taste. The more serious minded attended concerts (at the Pietà and other institutions who boasted musically accomplished inmates) visited churches and palaces, and admired paintings by Renaissance masters such as Titian, Giorgione and Bellini. The wilder spirits probably enjoyed the services of Venice's many courtesans, attended wild parties, and lost a lot of money in gambling dens — but they all wanted a souvenir of their stay to take home to their relatives, and these Canaletto provided in abundance. They were taken back, most frequently to Britain, as tourist trophies, and this is where they can be found today, in galleries such as the National Gallery, with some still in the homes of private collectors. When the War of the Austrian Succession broke out after the death of Charles V1 in Vienna in 1740, fewer visitors included Venice on their itineraries, not wishing to travel back through the Brenner pass. So Canaletto packed his paint brushes and moved to London, where he continued his successful career. Wealthy Venetians evidently saw no reason to purchase paintings of their own city. There is only one painting by him in the whole of Venice. From what we know of him he seems to have been by nature an amiable person, and, as a very successful artist he surely wouldn't have begrudged Harry his advice.
My first novel, Death of a Daughter of Venice, has as one of its main characters a struggling British artist. Canaletto has a cameo part offering advice at a chance meeting (and goes off with Harry's best pencil!).