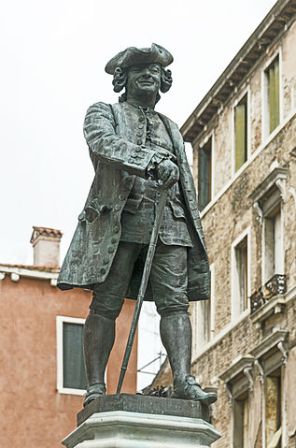 "Monument to Carlo Goldoni (Venice)" by Didier Descouens - Own work. Licensed under CC BY-SA 3.0 via Wikimedia Commons.;
Carlo Goldoni (1707-1793) was originally a lawyer, but decided he would rather be a playwright. His comedies remain some of Italy's most popular plays, full of humour and slapstick. Many have also been translated and performed in English. His best known of all is titled, in English, 'One Man, Two Governors.' He was a keen and amused observer of his fellow men and women, and wrote many of their foibles into his plays. He also made use of Venetian dialect. He appears in Death of a Daughter of Venice only briefly, when Harry encounters him weighing up the comic potential of the falling candelabra at the Fosca's party, but Harry's friend Luca, who works as a scene shifter, longs to have a role, if only a walk-on part, in one of his plays. Although Venice was his home town, Goldoni left it in the 1750s, perhaps because of the economic downturn caused by the War of the Austrian Succession, for Bologna and then for France, so Harry was fortunate to meet him.
My novel, set in Venice, Death of a Daughter of Venice tells of Harry's encounter with Goldoni.